QUESTIONS? CONTACT US NOW!
See Clearly After Cataract Surgery

Have you heard of premium lenses?  These are specialty lenses used during cataract surgery that can reduce or even eliminate your dependency on glasses after cataract surgery!
PREMIUM LENS OPTIONS
The placement of a lens implant within the eye after cataracts removal is one of the most important medical advances in recent history. Intraocular lenses offer several advantages including the elimination of contact lenses or thick cataract glasses, improved depth perception and side vision, and a normal appearance after surgery. Every year new implant designs emerge with special features such as foldable implants ideally suited for small-incision no-stitch procedures. Dr. Weinkle is constantly evaluating the desirability of each type of intraocular lens implant in order to offer you the highest quality and safest device available.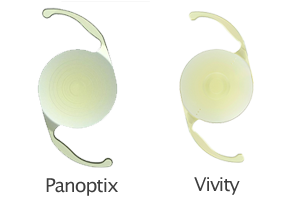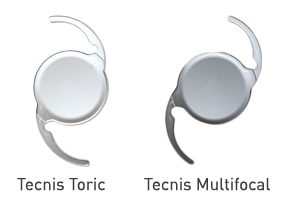 Premium Lens Types:
Panoptix Vivity Tecnis Symfony® Tecnis Toric® Tecnis Multifocal®
---
AcrySof IQ PanOptix IOL
The AcrySof IQ PanOptix IOL is an intraocular lens designed to provide you with clear vision for near, intermediate, and far distances without glasses. For this reason, it is sometimes called a "trifocal" lens much like the trifocal prescription you would get with conventional glasses. This premium IOL is designed to reduce or eliminate your need for glasses after cataract surgery at all ranges of distances.
What makes the PanOptix IOL unique is its ability to mimic a young eye. The design of the lens does this by bending light rays to allow them to focus on the retina (the back surface of the eye) in all distances. Examples of crisp vision at near vision include reading a book, using a cellphone or reading a menu; at intermediate vision include using a computer, playing board games, or looking in the mirror; at distance vision include watching TV, driving, playing golf, or attending sports and concert venues.

---
What is the Alcon AcrySof IQ Vivity Lens?
The Vivity IOL is an extended range of vision lens that can allow you to significantly reduce your dependence on contact lenses or glasses. This lens works by bending light rays to allow them to focus directly on your retina, correcting your natural refractive error.
In addition to improved distance vision, the Vivity IOL also provides improved intermediate and near vision, allowing you to perform more tasks without the need for glasses when compared to a standard monocular IOL. The Vivity IOL delivers continuous vision with a broader sight range and is safe and effective.
Alcon's Acrysof Vivity IOL utilizes non-diffractive technology so that you can experience a broader range of vision with less blurry zones. Some patients report seeing glare or halos around lights.
However, those who choose the Vivity lens have a better visual experience due to the use of the proprietary non-diffractive technology, which greatly reduces your chance of seeing glare and halos compared to other lenses. This lens also has UV and blue light filtering technology.

If you choose the Vivity IOL, you can expect to experience clear vision at both distance and near without increasing the incidences of visual disturbances that are present in other premium lenses. In addition, thanks to non-diffractive technology, those who choose the Vivity IOL will experience crisper night vision.
The Vivity lens will not be the best choice for everyone. The best way to determine if the Vivity is right for you is to discuss your vision goals and options with your eye doctor.
---
What is the Tecnis Symfony® Lens?
The Tencis Symfony Lens is a recent FDA-approved intraocular lens to correct cataracts and reduces the need for glasses after cataract surgery.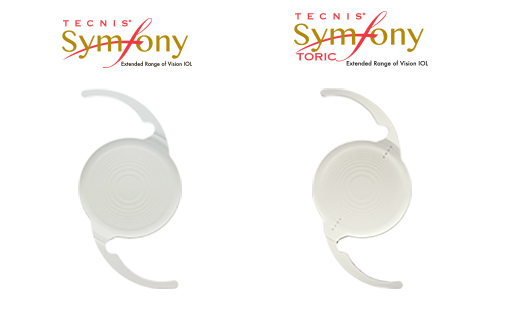 ---
Tecnis Toric® by Johnson & Johnson Vision

The TECNIS Toric® 1-Piece intraocular lens implant is used to replace the natural lens that is being removed during cataract surgery. The TECNIS Toric® provides visual correction of aphakia and astigmatism of one diopter or greater in adult patients with or without presbyopia. This lens is clinically found to reduce or even eliminate dependence on glasses or contact lens for distance after cataract surgery. This lens is the latest addition to the TECNIS Toric® platform and provides that same proven optics and materials found in every TECNIS Toric® lens.
Click here to visit the TECNIS Toric® website
---
Tecnis Multifocal®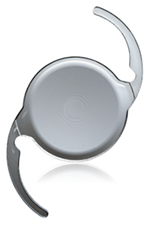 The Tecnis Multifocal® lens is specially designed to provide patients with superior vision throughout a wide range of focal lengths and even allows patients to see clearly in low light. It features multiple refractive zones to enhance uncorrected vision at close (i.e. reading) and far (i.e. driving) distances. In fact, clinical trials show that nearly 9 out of 10 patients do not need glasses at all after receiving a Tecnis Multifocal® lens.
If you have complications with your vision while driving at night, the Tecnis Multifocal® Aspheric IOL can significantly help to restore your vision. The lens is implanted during cataract surgery. Clinical trials have shown that 4-6 months post-Tecnis Multifocal® implantation, 84% of patients had 20/20 vision or better, 14% had 20/25 to 20/40 vision and 1% had 20/50 to 20/100 vision.

Planning to have cataract surgery?
The Tecnis Multifocal® IOL is designed to provide patients with clear vision at all distances and all light levels. The lens is set to one point (distance or near) which helps to restore vision, eliminate the need for reading glasses, and improve vision during night-time driving. Clinical trials have shown that 9 out of 10 patients no longer require glasses after receiving the Tecnis Multifocal® IOL.
Click here to visit the Tecnis Multifocal® website