QUESTIONS? CONTACT US NOW!
See Clearly After Cataract Surgery

Have you heard of premium lenses?  These are specialty lenses used during cataract surgery that can reduce or even eliminate your dependency on glasses after cataract surgery!
Designer Frames and Contact Lenses

The optical shop at Palm Coast Eye Center offers the latest styles and designer names along with economical options for the entire family.  Are you looking for contact lenses? Our team can fit and supply your contact lenses.
YAG LASER SURGERY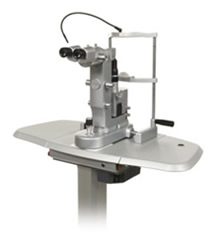 An important development in eye care is the YAG laser. While the laser does not remove cataracts, as some news articles suggest, it is quite effective in performing certain types of eye operations without cutting the eye.
A part of the lens, the outer capsule, is left in place during modern cataract surgery to help lens implant. In 20-40% of patients, through a normal process of cell growth, this capsule may become cloudy months or years after a cataract is removed. If this occurs, the YAG laser can safely open the cloudy capsule and restore good vision. This painless procedure takes only a few minutes and requires no hospitalization or anesthesia. After the laser treatment, your vision will return rapidly and you may resume normal activity immediately.